There are lots of great prizes to be won at this year's Chiswick Book Festival, either through prize draws or competitions. Thanks to our Festival partners for their donations. Here are the winners we have announced so far.
1. Two tickets to 'The Book Club' at the King's Head Theatre – prize draw
We gave one lucky person the chance to win a pair of top price tickets to The Book Club at the King's Head Theatre this Autumn.  Facebook.com/BookClubOnStage
Winner: Grainne Hickey
2. A place on the Food Writing course at Leiths School of Food and Wine – prize draw
In this four-part evening course at Leiths in January 2017, food, drink and travel writer Andy Lynes will show you how it's done. providing inspiration, valuable industry insights and top tips on how to get published. The prize draw was open to everyone who attended the Foodie Question Time session at the Chiswick Book Festival. Full details
Winner: Richard Evans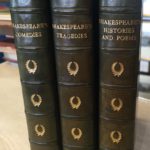 3. A three-volume edition of Shakespeare donated by Fosters' Bookshop – Quiz prize
Marking the 400th anniversary of Shakespeare's death, the first prize in our annual quiz is a beautiful three-volume, half-calf Rivière edition of Shakespeare's Comedies, Tragedies and Histories and Poems. Rivière & Sons was one of the best English bookbinders of the late 19th and early 20th Centuries and published its own editions of the classics. Kindly donated by Fosters Bookshop in Chiswick High Road, 'purveyors of outmoded educational tools and antiquated entertainment devices'. The Anniversaries Quiz sheet will be on sale during the Festival, prize £2, in aid of our reading charities. Entries close on Friday September 30th 2016.
Winner: Alison Baker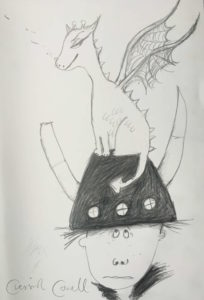 4. A signed original drawing by Cressida Cowell – Children's Festival Pass draw
While being interviewed by The Chiswick Calendar, Cressida produced a lovely drawing of Hiccup the Horrendous Haddock III and his very small dragon Toothless. It has been framed by Snappy Snaps and was given away in a prize draw. Everyone who bought a Children's Festival Pass or a ticket to Cressida's session was entered.
Winner: Michael Jenkins

5. Book prizes from Trotters – Odd Dog Out Treasure Hunt
The prize-winning author Rob Biddulph introduces his new picture book Odd Dog Out with a Treasure Hunt. We put 17 pictures of Rob Biddulph's Odd Dogs Out in the shop windows of Turnham Green Terrace. Children could pick up a free entry form at Trotters, 84 Turnham Green Terrace, W4 1QN. Entries closed: 5pm Friday 16 September 2016. Age 12 or under. One entry per child.
Winners: Leo Maguire, Sebastian Meyer, Lara Orlandi, L Maurice Orlandi, Valentin Pietralito-Laieb, Isabel Weyman and Zoe Weyman.
6. Book prizes from Trotters: Young People's Poetry Competition
Winners: see Poetry Competition page
7. £1,000 voucher for SofaWorkshop – prize draw
Still open – Pick up a draw form from SofaWorkshop in Chiswick High Road, or St Michael & All Angels Church in Bath Road, complete it and return to SofaWorkshop by October 7th 2016.
8. A subscription to Scoop, the new magazine for children – Treasure Hunt prize
Scoop is an exciting new monthly print magazine for 8-12 year olds, with a mix of short stories, graphic fiction, comic strips, non-fiction, jokes and puzzles. It will be launched on September 22nd. Contributors to issues 1-3 include Neil Gaiman, Catherine Johnson, Pat Bradbury, Emerald Fennell, Gareth P. Jones, Adrian Mangel, Tom Stoppard, Abi Elphinstone, Piers Torday, Chris Priestley, Lucy Coats and Amanda Craig. Read the first Scoop Newsletter here. We are giving a year's subscription as a prize in the Treasure Hunt.
Winner: Still to be announced