Read more about our children's authors and performers in our A to Z of Speakers
See the ChiswickBuzz.net interview with Zoe Antoniades
Kindly supported by 
Please note: All children under 14 must be accompanied by an adult.
For the Clare Balding and David Baddiel events the adult must buy a ticket.
The Marquee events are free for adults and children.
The Marquee is situated at the west end of St Michael & All Angels Church, facing Acton Green
FRIDAY 15 SEPTEMBER 2017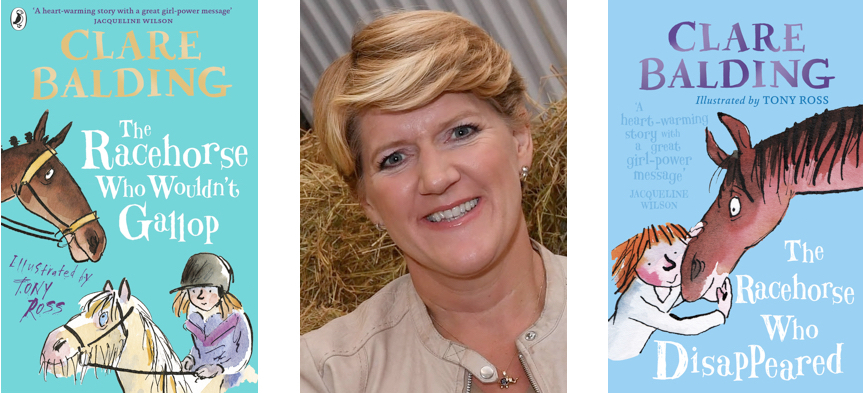 5pm-6pm: Clare Balding: The Racehorse Who Disappeared
Clare Balding launches her second brilliant adventure story about young heroine Charlie Bass and her hilarious family of humans and animals. It's an inspirational story about overcoming adversity and following your dreams, subjects close to Clare's heart.
Clare will share tales of growing up surrounded by animals and stories from the Olympians and Paralympians she has met during her career. Expect lots of audience interaction and lots of time for questions.
Supported by Young Veterinary Practice – Chiswick
St Michael & All Angels Church, £4

SATURDAY 16 SEPTEMBER 2017
11:15am-12:15pm: David Baddiel: Birthday Boy
The ever-fascinating comedian, TV presenter, storyteller and LOLLIE winner talks about his unputdownable books, from the internationally bestselling The Parent Agency to the laugh-out-loud AniMalcolm and his new book Birthday Boy. (Age 9+)
Supported by Fleet Tutors
St Michael & All Angels Church, £4

12:30-1pm: Young People's Poetry Competition Prize Giving
Father Kevin Morris, the vicar of St Michael & All Angels, will present the prizes for the Chiswick Book Festival Young People's Poetry Competition. James Priestman, the chair of judges, will introduce the winners and comment on their poems. We apologise that Lucy Hawking (the George Greenby science adventure books) is no longer able to attend. Now in its 7th year, the competition attracts entries from many local schools and is supported by ChiswickW4.com and Trotters
Marquee, free
1:30-2:30pm: Giraffe and Frog Activity Party
Join award-winning author illustrator Zehra Hicks for exciting readings, a comic-strip drawing workshop and puppet making! Zehra is the creator of Flying Lemurs, All Mine! and the brand new Giraffe and Frog, a hilarious adventure following two friends on their hunt for a beach. (Ages up to 7)
Marquee, free
3-4pm: Invincible Voices Storytime
Inspired by teacher and author Zoe Antoniades, children are encouraged to come up with their own story ideas and helped to shape, structure, organise and develop them. Join Zoe as she brings to life this creative collection of stories for children by children. (Ages 6-10) See the ChiswickBuzz.net interview
Marquee, free
SUNDAY 17 SEPTEMBER 2017
12-1pm: The Really Big Pants Theatre Company: PLUNDERED!
Back by popular demand with a new show. Set sail with two girls, one trunk, and some really big pants on a quest to battle a dastardly litterbug pirate! And feel free to dress as a fearsome crew member… arrrrrr! (Ages 5-11)
Marquee, free
1:45-2:45pm: Inspire Little Minds Storytime
Independent Usborne Organiser, Lola House, brings her experience, knowledge and passion to choosing the perfect books to inspire, inform and excite young minds from the 2000 title range of the largest and most successful independent children's book publisher in the UK. (Ages: Families with 2-5 year olds for storytelling, books and activity packs available for 0-14 years)
Marquee, free
3:15-4:15pm: The Building Boy Activity Fun
The Carnegie Prize nominated author of weird and wonderful books for young children, Ross Montgomery, takes you on an epic adventure about finding your place in the world. (Ages 4-8)
Marquee, free
Thanks to The Week Junior, which sponsors the Children's Festival.  The Week Junior is a brilliant current affairs magazine for children aged between 8 and 14. It's filled with fascinating stories and information, written to engage curious young minds and encourage them to explore and understand the world around them.
Visit www.theweekjunior.co.uk to find out more – and get your first 6 issues free.