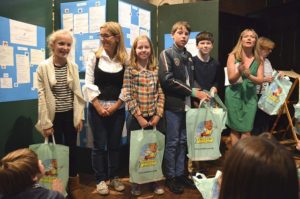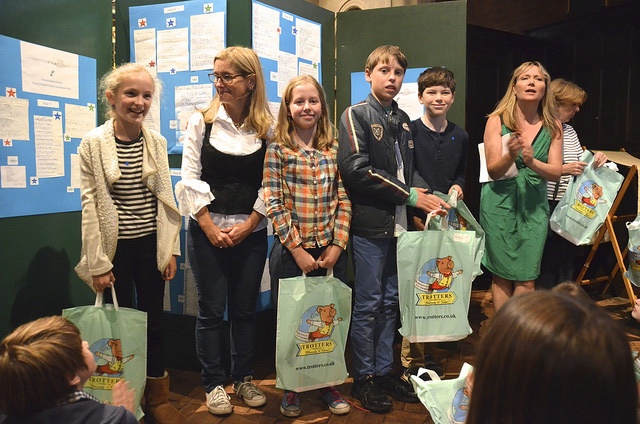 Children in Years 3-7 from schools all over the local area compete annually for the Chiswick Book Festival's poetry competition for young people, now in its sixth year.  Young people are invited to write a poem at home, or at school, about whatever appeals to them.
Award-winning children's author Cressida Cowell presented the prizes to this year's winners (right). They all received books kindly donated by Trotters in Turnham Green Terrace. The competition is also supported by ChiswickW4.com.
You can see pictures of other groups of winners in our Flickr Picture Gallery and read the winning poems for yourself at Waterstones in Chiswick High Road. The poems are now on display for a limited time only on the glass doors of the shop.
Winners
Year 3
– First Prize
'Fantastic Gymnastics' – Amber Rhodes (Cavendish Primary School)
– Second Prize
'Egypt' – Milo Wilcock (Orchard House School)
– Third Prize
'Two Miracles' – Charlie Bieri (Cavendish Primary School)
– Commendations
'The Daffodil' – Joshua Wright (The Falcons School For Boys)
'I'm Sorry (not really)' – Elise Metreweli (Chiswick & Bedford Park Preparatory School)
Year 4
– First Prize
'Before the School Day' – William Pond (Southfield School)
– Second Prize
'No one knows' – Oliver Visram (The Falcons School for Boys)
– Third Prize
'The Magic Box' – Freddie Richardson (Orchard House School)
– Commendations
'Northern Lights' – Felix Berry (The Falcons School For Boys)
'The Firefly And the Sun' – Esme Perry (Chiswick & Bedford Park Preparatory School)
Year 5
– First Prize
'The Diving Contest' – Orson Lepherd (Cavendish Primary School)
– Second Prize
'Last Soldier' – Thea Metreweli (Chiswick & Bedford Park Preparatory School)
– Third Prize
'Sad Paradise' – Eleanor Richards (Orchard House School)
– Commendations
'The Race' – Sam McMorran (Orchard House School)
'The Magic Man' – Flora Davies (Chiswick & Bedford Park School)
'Sea Animals Poem' – Ajit Bhular (Castlebar School)
Year 6
– First Prize
'My Brother' – Amy Sheridan (Orchard House School)
– Second Prize
'Larden Road' – Matilda Littlemore (Chiswick & Bedford Park Preparatory School)
– Third Prize
'War Crimes' – Arthur Adams (Orchard House School)
– Commendations
'Agincourt' – Ben Moon (Orchard House School)
'Turning Circles' – Josh O'Donnell (Orchard House School)
'Seaside Poem' – Mohamed Mohammed (Castelbar School)
Year 7
– First Prize
'Words Like Me' – Annika Arora ( Latymer Upper School)
– Second Prize
'The Daydream' – Diane Comon (Godolphin & Latymer School)
– Third Prize
'Blind' – Alexia von Wiese (Latymer Upper School)
– Commendations
'Ball At my Hands' – Joubin Amiri (The Falcons School for Boys)
'Fire' – William Devise Craig (The Falcons School for Boys)