Food Writing with Andy Lynes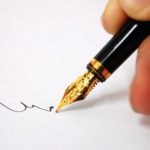 Monday 9 January 2017 – Monday 30 January 2017
(More details on the Leiths website)
Do you dream of writing transporting accounts of food markets, like Elizabeth David, or informative, entertaining reviews of restaurants, like Marina O'Loughlin or Giles Coren? If so, you'll need to develop a sharp, evocative, and compulsively readable writing style – and learn how to promote your work.
In this four-part evening course, food, drink and travel writer Andy Lynes will show you how it's done. He's written for The Times, The Telegraph and The Independent and reviewed restaurants for the Metro and the Guardian, all in his own distinctive style.
Using his wealth of experience, Andy will guide you through a series of fun, interactive exercises to sharpen your skills and fire your imagination. He'll provide inspiration, valuable industry insights and top tips on how to get published, and you'll also learn from our guest speaker, Laura Rowe, editor of Olive magazine.
Each session will focus on a different area of writing, and you will take part in peer-reviewed writing exercises that will help you to develop your own unique style. By the end of the course, you'll be writing and pitching with confidence.
What you will learn:
How to identify and take inspiration from the best food writing
How to make money from food writing
Food and drink feature writing
Reviewing restaurants
Food and travel writing
How to write a really good recipe
How to describe the flavours, aromas and textures of food without resorting to cliché (tasters provided!)
Mastering style and tone in food writing
Finding your food writing voice and standing out from the crowd
A food and drink magazine editor's view (with guest speaker Laura Rowe of Olive magazine)
Tea, coffee and elderflower cordial will be served on arrival, along with a light snack to keep you going.
Rules for the prize draw, open to everyone who attends the Foodies Question Time on Sunday September 18th 2016:
ü  Entrants must be aged 18 or over
ü  One entry per person, duplicates will not be considered
ü  Write your name and email address on the accompanying sign-up sheet
ü  One name will be picked randomly by the Leiths Marketing team on Wednesday 21st September
ü  The prize is only valid for the January Food Writing course and cannot be transferred for use on other courses