Why hold a book festival in Chiswick?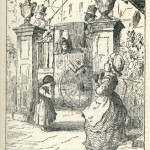 In 1817, William Thackeray went to school here, in Walpole House by the river on Chiswick Mall – the inspiration for Miss Pinkerton's Academy in Vanity Fair, where Becky Sharp famously threw a dictionary out of her carriage.
Later this became an educational institution for the poor, with Princess Victoria as its patron; she visited it in the early days of her reign as Queen.
Chiswick House – where the Festival's opening event takes place – was the favourite home of Georgiana, the Duchess of Devonshire, immortalised in Amanda Foreman's prize-winning biography (Georgiana called it "my earthly Paradise"). It was visited several times by Queen Victoria, who wrote about it in her diaries.
WB Yeats, GK Chesterton and John Betjeman wrote eloquently about Bedford Park, the first garden suburb, and other parts of Chiswick. So have current authors like Celia Brayfield, Mavis Cheek, Adele Parks and Bryan Appleyard.
And writers such as Edna O'Brien, Polly Devlin, Louis de Bernieres and Rowan Williams have graced the annual Bedford Park Festival, organised here by St Michael & All Angels Church. You can read a selection of links on Chiswick's history via ChiswickW4.com.
These days, leafy Chiswick – London W4 – is home to many who work in publishing and the media, as well as those who love books, making it a natural place to celebrate the written word. Festival venues include St Michael & All Angels Church & Parish Hall and the Tabard Theatre, all close to Turnham Green tube station, as well as Chiswick House, the ArtsEd and Chiswick Library. And there is no shortage of places nearby to eat and drink!