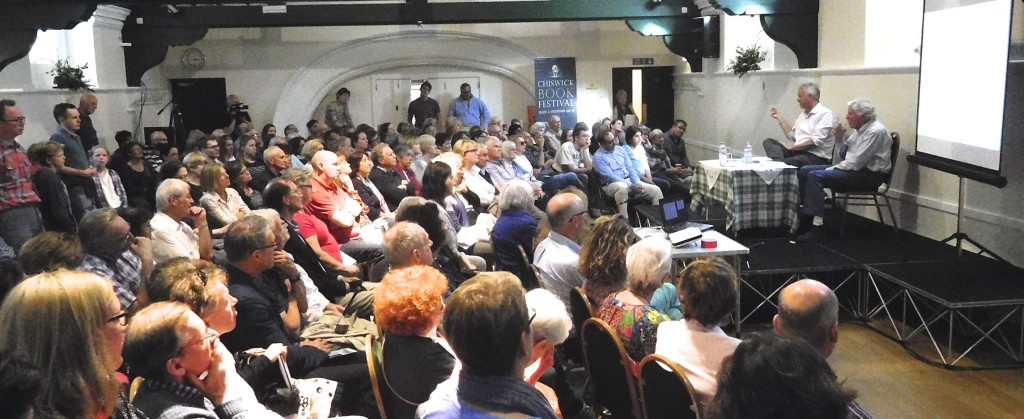 Sessions take place in St Michael & All Angels Church, the Parish Hall upstairs (above), Chiswick House & Gardens, ArtsEd's Andrew Lloyd Webber Foundation Theatre, The Tabard Theatre and Pub (opposite the church) and Chiswick Library.
St Michael & All Angels Church & Parish Hall
Priory Avenue
London W4 1TX
Tel: 020 8994 1380
parishoffice@smaaa.org.uk
Two minutes walk from Turnham Green tube station
Andrew Lloyd Webber Foundation Theatre
ArtsEd (The Arts Educational Schools)
14 Bath Road
London W4 1LY.
Burlington Pavilion,
Chiswick House & Gardens
Burlington Lane
London W4 2RP
Chiswick Library
1 Duke's Avenue
London W4 2AB
Tabard Theatre
2 Bath Road
London W4 1LW
Turnham Green on the District Line is the nearest tube station and many buses go along Chiswick High Road or along Turnham Green Terrace.
Disabled access
St Michael & All Angels Church and Parish Hall, ArtsEd and Chiswick Library have full disabled access.  However, the Tabard Theatre is reached up a staircase and unfortunately does not have a lift.
Timings
Sessions are an hour long with a 15 minute change-over time, unless otherwise stated.
Buying books
A team from Waterstones' Chiswick branch will be selling copies of the authors' books after each event and authors will usually stay after their talks to sign books.
Food and drink
Coffee will be sold outside the church during the Festival and home-made cakes sold in the Festival Marquee. Drinks will be available before the evening sessions at Chiswick House, ArtsEd and in the church. Chiswick is well supplied with restaurants, cafes, wine bars and pubs, within a few minutes' walk of the Festival.