The Chiswick Book Festival is over for another year. But for booklovers there's a Festival 'Extra' – The Christmas Local Authors Party on Saturday December 7th at Waterstones in Chiswick High Road. Rula Lenska, Jo Pratt, George Goodwin, Andrew Wilson, Sheila Binns, Peter Gorle and more will be signing books for Christmas. Plus refreshments and carols sung by the choir of Chiswick & Bedford Park Preparatory School. Free entry from 4.30pm to 7.30pm, all welcome!
The 6th Chiswick Book Festival will run from Thursday September 11th to Sunday 14th 2014, based at St Michael & All Angels, Bedford Park. Why not put the dates in your diary? Make a weekend of it! And relive the 2013 Festival below and at chiswickbuzz.net, where you can see highlights of the fascinating and entertaining interview with Philip Kerr and Jane Thynne.
A memorable final session in St Michael & All Angels Church (above). Spies on Sunday marked 60 years of James Bond, with Kate Grimond (Ian Fleming's niece) and three of today's top spy writers: Charles Cumming, Alex Gerlis and Christopher Morgan-Jones, as well as two non-fiction authors, Roger Hermiston and Sinclair McKay. Sponsored by Orchards of London. Pic: Jim Cox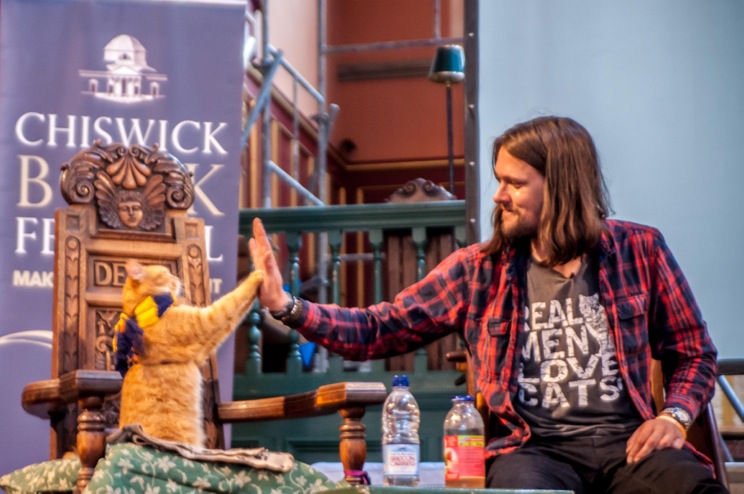 On Saturday September 14th, Street Cat Bob and James Bowen celebrated with a 'high five' at a packed St Michael & All Angels. Sponsored by Young Veterinary Practice. And Sir Max Hastings filled the church again on Saturday evening, giving his first talk on his new book Catastrophe: Europe Goes to War 1914 (below). Sponsored by Savills Chiswick. Pictures: David Beresford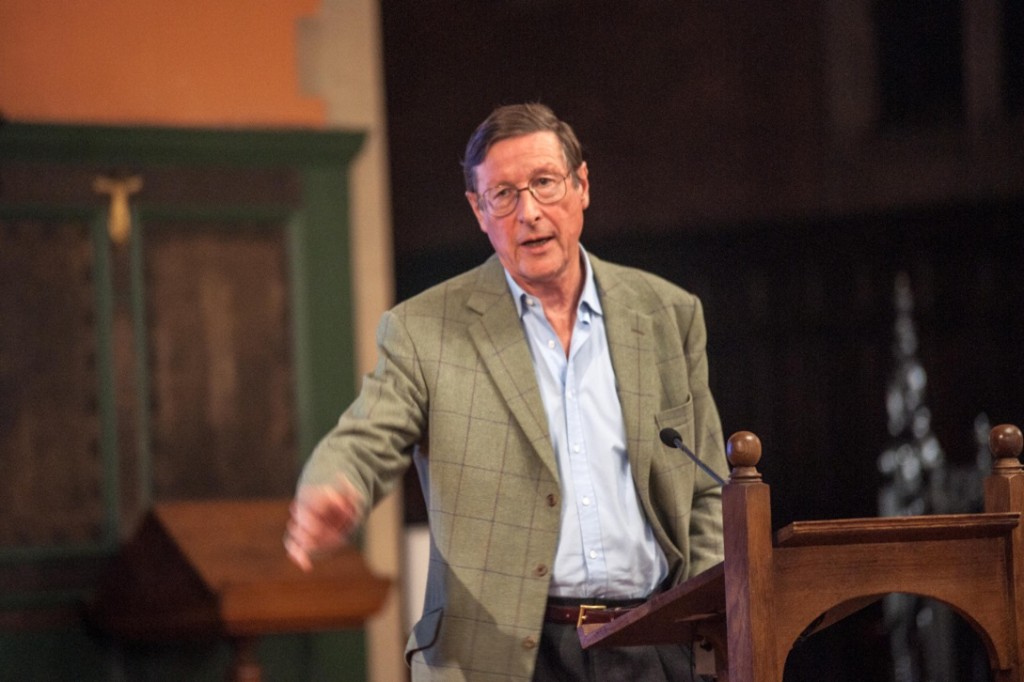 Rula Lenska charmed the audience with tales from her autobiography My Colourful Life, interviewed by Festival director Torin Douglas (below).  Picture: Ian Wylie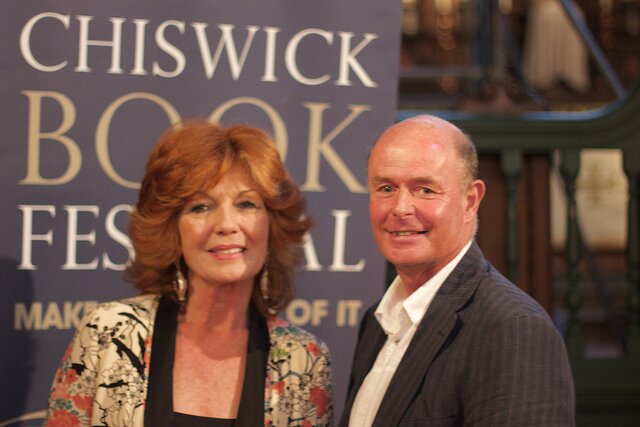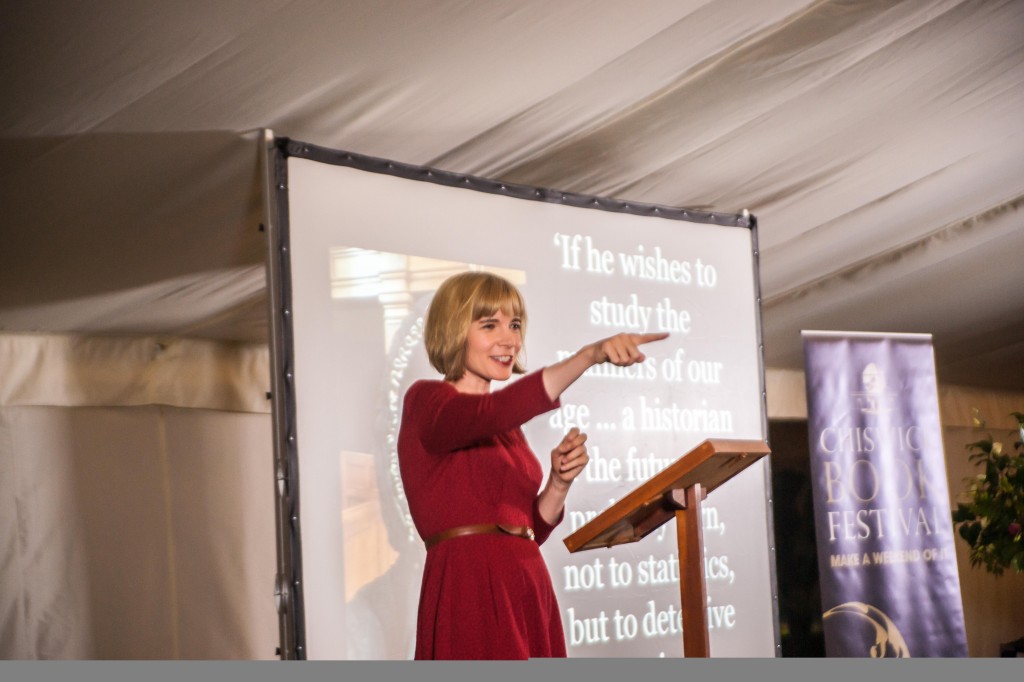 Lucy Worsley at Chiswick House (above) got us off to a great start at Thursday's eve-of-Festival event introducing her new book and TV series A Very British Murder.  Sponsor: Hubbard Pegman & Whitney. Philip Kerr & Jane Thynne kept the momentum going at St Michael's on Friday, entertaining a packed audience (below) with tales of Berlin in the Second World War. Sponsor: Savills Chiswick. Pics: David Beresford, Torin Douglas - and you can watch edited highlights at chiswickbuzz.net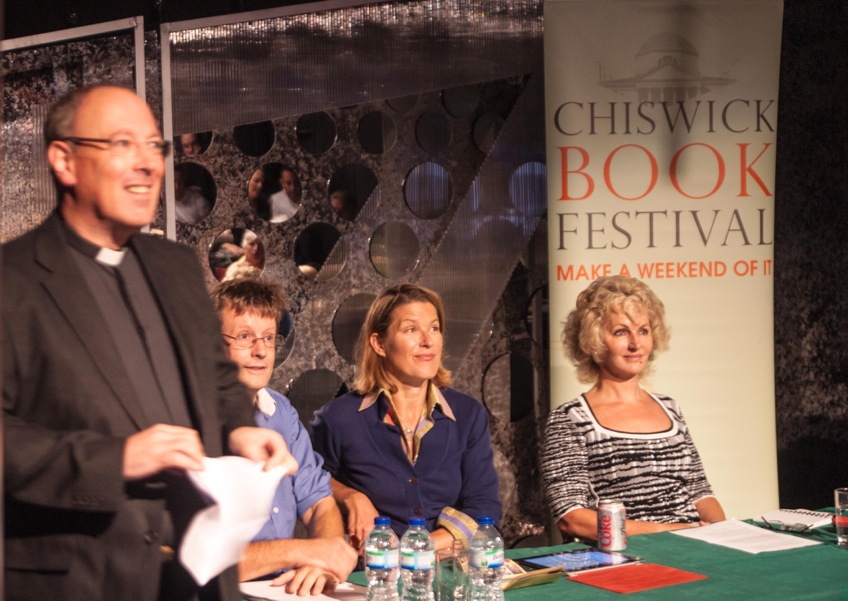 And there was a packed crowd on Saturday morning in the Tabard Theatre to see Stephanie Flanders chair a discussion on The State We're In with David Boyle and Harriet Sergeant, introduced by the vicar of St Michael & All Angels Fr Kevin Morris.  The Tabard Theatre events were all sponsored by Killik & Co Chiswick.
The Festival took place from Friday September 13th to Sunday 15th 2013, based at St Michael & All Angels Church & Parish Hall following the annual eve-of-festival event at Chiswick House on Thursday 12th September. We had a very exciting line-up of authors, with bestsellers for most tastes – history, crime, spies, sport, food, romantic fiction, real-life stories and children's books. Speakers included Rula Lenska, Sir Max Hastings, Charles Cumming, Lucy Worsley, James Bowen (and his street cat Bob), Philip Kerr, Jane Thynne, Simon Hughes, Lesley Pearse, Lord Hannay of Chiswick, Lindsey Davis, Laurie Graham  and many others.
You can read the full programme here and previews on ChiswickW4.com: Stellar Chiswick Book Festival Line-Up Announced and Spies on Sunday – Win a first edition of Thunderball to celebrate 60 years of James Bond
You can see the Festival director Torin Douglas looking ahead to some of the highlights on Chiswickbuzz, the new web TV service.
If you would like to take part in – or help at – next year's Chiswick Book Festival, please contact the Festival administrator Dinah Garrett, P O Box 31497, London W4 3QF or dinah.garrett@outlook.com.
Watch out for news updates here. And to see who's spoken here in the past, don't miss our A to Z of Chiswick Book Festival authors, from Judy Astley, Clare Balding and Lynn Barber to AN Wilson, Michael Wood and Lucy Worsley.
The Festival was again hosted by St Michael & All Angels Church, near Turnham Green tube station. Other events took place over the road at the Tabard Theatre, at Chiswick Library and Chiswick House & Gardens, which generously donate their premises for the occasion. We always  get great support from Waterstones, who sell the authors' books at their shop in Chiswick High Road and at the Festival; and from Savills, the main sponsor, and other supporters.
The Festival is a non-profit-making, community event. It raises money for the three charities below, all related to reading:
It also raises money for St Michael & All Angels Church which hosts the Festival. This year that money will go to its Organ & Parish Rooms Appeal.
You can see pictures below from the 2012 Chiswick Book Festival.
Find photos from the 2012 Chiswick Book Festival on Flickr
Below is a gallery of images from the 2011 Festival.