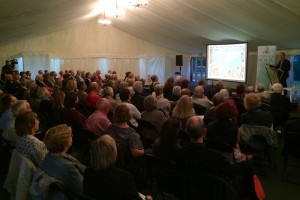 The 2014 Chiswick Book Festival is over.  You can see the photographs here. And the videos (See Books section).
And the quiz answers and draw winners. And the winners of the Young People's Poetry Competition.
And you can download the 2014 leaflet.
Do join us next year – the Festival will run from September 10th to 14th 2015.
2014′s speakers included Simon Mayo, AN Wilson, Charles Spencer, Bryony Gordon, Toby Young, Jane Thynne, Elizabeth Buchan, Peter Oborne, Malcolm Gluck, Chris Bryant MP, David Hempleman-Adams, Helen  Macdonald, Sarah Boseley, Stephen Grosz, Andy Miller, Elizabeth Speller, Juliet West, Graham Holderness, Jessie Childs, Judith Flanders, Caroline Moorehead, Elisa Segrave, Fanny Blake, Ross Biddiscombe, Tim Moore, Alice Peterson, Paul Bailey, Oscar Coop-Phane, James MacManus, Paul Keers and Charles Jennings.
Previous speakers are listed in our A to Z of Chiswick Book Festival authors, from Bryan Appleyard, Clare Balding and Lynn Barber to AN Wilson, Michael Wood and Lucy Worsley.
The Festival is a non-profit-making, community event. In its first six years it has raised over £30,000 for the three charities below, all related to reading:
RNIB Talking Books Service and Books for Children
InterAct Stroke Support
The Letterbox Club, part of the Book Trust.
and for St Michael & All Angels Church, Bedford Park (above left) which hosts the Festival, just two minutes from Turnham Green tube station.
If you would like to help at next year's Festival, or suggest authors, or have books considered for discussion, please contact Dinah Garrett, the Festival administrator, at dinah.garrett@outlook.com.