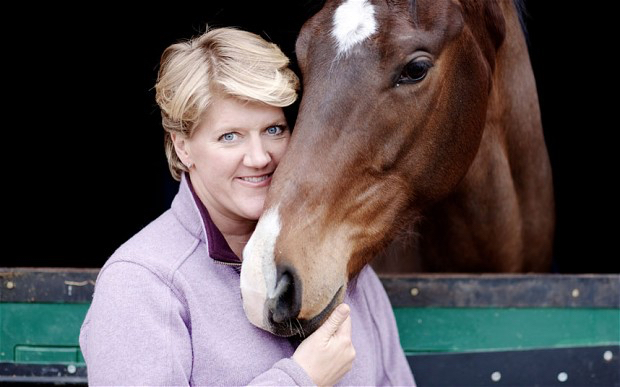 We have just announced first details of the line-up for this year's Chiswick Book Festival, which will take place from September 14th to 18th 2017. Please save the dates and make a long weekend of it! The full programme will be published in mid-July when tickets will go on sale here.
Chiswick residents who'll be speaking include Clare Balding (above), Laurence Rees, Tom Mangold, Cathy Rentzenbrink, Deborah Cadbury and Jeremy Vine. We're also delighted to be welcoming to Chiswick: Jo Malone, Nicholas Crane, Maggie O'Farrell, David Baddiel, Oz Clarke, Hunter Davies, Simon Heffer, Elizabeth Buchan, Peter Hennessy, Robin Lustig, Anne Sebba, Sarah Outen, Harry Mount, John O'Farrell, Jill Dawson, Marcel Theroux, Craig Oliver and many others. You can read more in our latest Newsletter here.
More than 150 people came to see William Dalrymple, speaking at our sister event, the Bedford Park Festival in Chiswick, on Monday June 12th. He was in conversation with broadcaster Susannah Simons. And novelist Mavis Cheek will be choosing some of her favourite poems at the Poetry Evening on Wednesday June 14th.
See photos of the 2016 Chiswick Book Festival in our Flickr Picture Gallery and videos from Chiswickbuzz.net and The Chiswick Calendar. And read an interview with our Author Programme Director Jo James at Books & The City.
See what we've chosen as our latest Talking Book.
Sign up for our Newsletter.
Festival director Torin Douglas with RNIB's area fundraising manager, Krista Dixon.

Thanks to all our authors, readers and supporters at the 2016 Festival who helped us donate £2,600 each to our reading charities:
and to St Michael & All Angels Church which hosts the Festival. We were delighted that Doorstep Library were able to attract matched funding through The Big Give Christmas Challenge making our donation to them worth over £4,630.
The Festival, a non-profit-making, community event, has raised over £60,000 for reading charities and St Michael & All Angels over the past eight years.
Read all about the 2016 Festival in our Newsletters and Festival review. You can see 175 photos in our 2016 Flickr Picture Gallery and videos from Chiswickbuzz.net and The Chiswick Calendar.
  Follow us on Twitter         
  See photos of the 2015 Festival  on FlickR
Thanks to our commercial supporters, particularly to our Diamond partners: Savills, SofaWorkshop, Chiswick Auctions, Waterstones and Lovereading. See our Partners page for more.